▲ NEW PROJECT COMMISSIONED FOR FAÇADE FESTIVAL 2017
---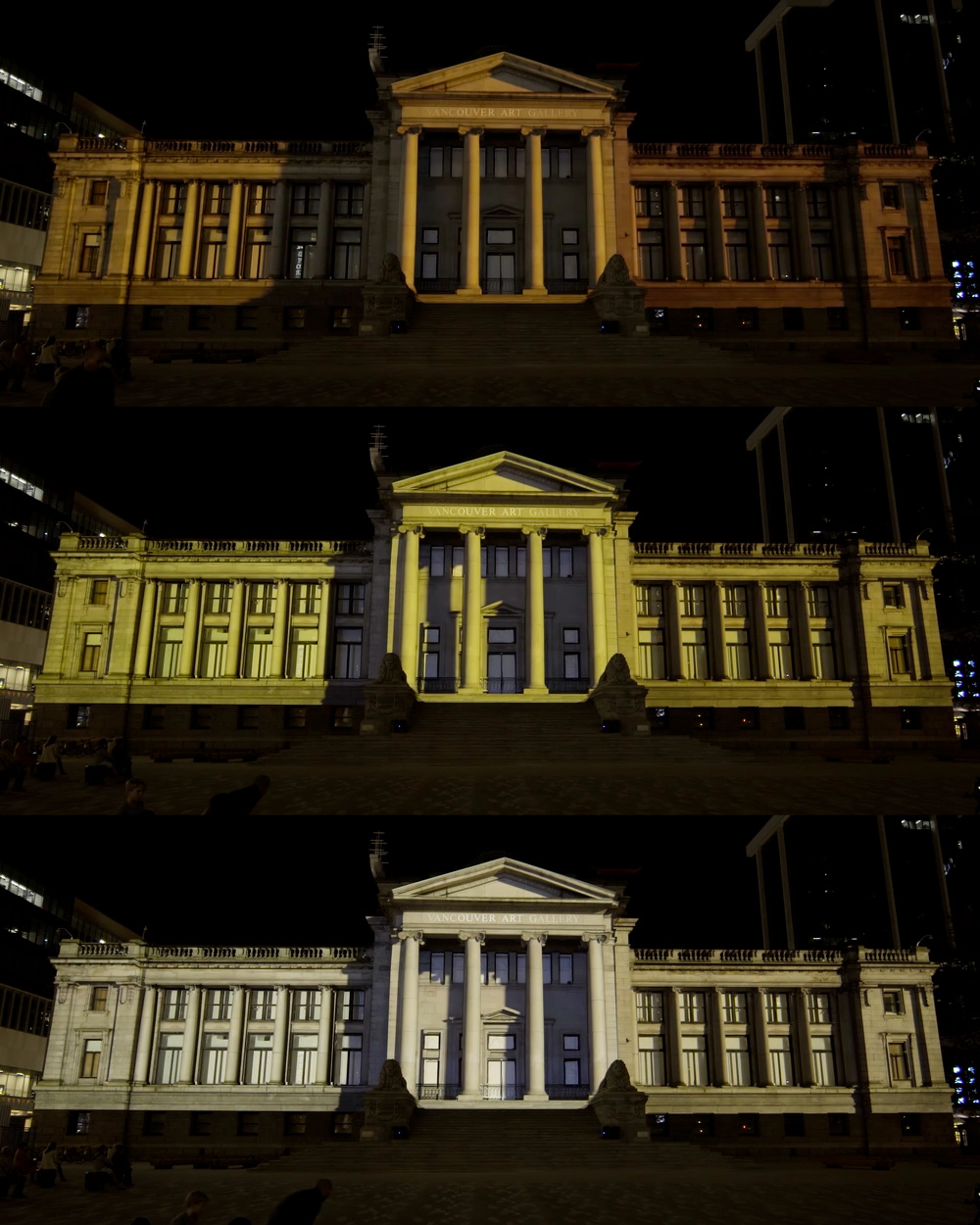 SCIAGRAPHIC STUDY
James Nizam

In Collaboration with:
SOUNDS PERFORMED BY THE SUN
Recorded and Produced by UBC astrophysicist Prof. Jaymie Matthews, O.C.

September 4 – 10 · 2017
7:30pm – Midnight

—

Sciagraphic Study condenses six months of the sun's procession into an observable ten-minute time lapse, making visible a long cycle of time normally invisible to the pace of life. Using digital rendering technologies, James Nizam replicated the sun's path over a virtual model of the Vancouver Art Gallery's architectural facade and recorded the light and shadow cast each day from the summer solstice to the winter solstice. He then transposed these virtual shadows back onto the gallery's real facade via a video-mapping projection animation, as part of Façade Festival 2017.
The resulting shadow play activates the architecture of the gallery in a real-lifescale with the astronomical event that the work simulates. Shadows move across the building's facade exactly as they occur in nature, progressively shape-shifting in relationship to the sun's changing azimuth and altitude in the sky . As the days grow shorter from summer to winter, the animation speeds up in proportional pace and measure, eventually culminating in a stroboscopic rhythm. The simulation makes a compelling connection between digital environments and our physical surroundings and allows us to experience a real event through an augmented reality.
Sciagraphic Study is paired with "Sounds Performed by the Sun," a sound work produced by Canadian astrophysicist and asteroseismologist Dr. Jaymie Matthews. Matthews is Professor of Astrophysics in the Department of Physics & Astronomy at the University of British Columbia and was appointed an Officer of the Order of Canada in 2006 for his accomplishments in research and education. The sounds in this work are generated by sound waves propagating from inside the sun which transform it into a musical instrument on a cosmic scale. This solar music was recorded through oscillations in the sun's light arriving on Earth. Matthews shifted the solar vibration frequencies into the range of human hearing, matching their tempo and pitch to the pace of the light-and-shadow play in Sciagraphic Study.
Sciagraphic Study was commissioned by the Burrard Arts Foundation as part of Façade Festival 2017, in partnership with the Vancouver Art Gallery.

—

Burrard Arts Foundation
108 East Broadway, Vancouver B.C.
V5T 1V9, Canada
www.burrardarts.org
www.facadefest.com