▲ GROUP EXHIBITION @ KIT ( DÜSSELDORF )
---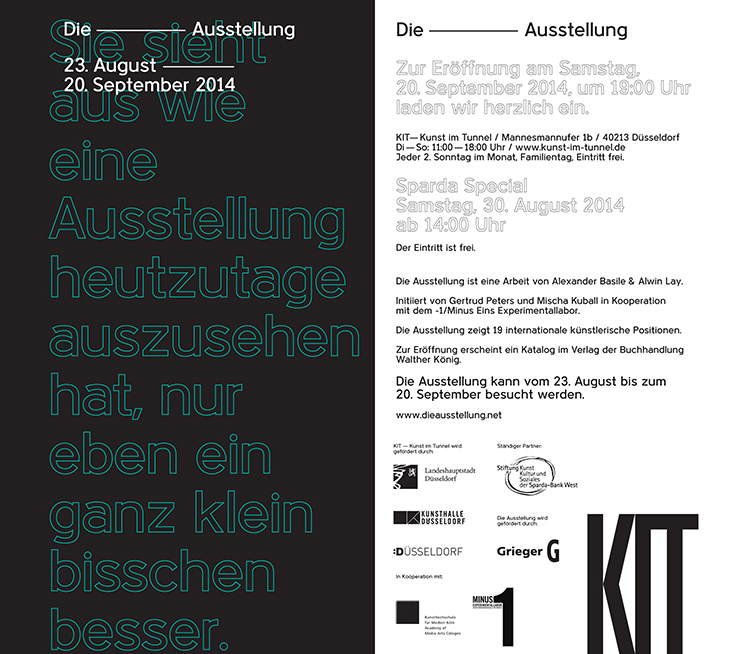 DIE AUSSTELLUNG
Opening:     
September 20 · 2014 ⁄ 7 pm
Exhibition: 
August 23 – September 20 · 2014
Bastian Hoffmann (Munster) / Peter Hermans (Leipzig) / Balz Isler (Berlin) / James Nizam (Vancouver) / Jan Hoeft (Cologne) / Stéphanie Solinas (Paris)/ Verena Seibt & Clea Stracke (Munich) / Mia Boysen (Cologne) / Taiyo Onorato & Nico Krebs (Zurich) / Ian De Ruiter (Amsterdam)/ Paul Bailey (London) / Peter Miller (Paris) / Daniel Niggemann (Hamburg) / Rhein Verlag (Dusseldorf) / Arne Schmitt (Leipzig) / Johannes Post (Hamburg) / Mark Von Schlegell (Cologne/Los Angeles) / Fleur Van Dodewaard (Rotterdam) / and Bernhard Cella (Vienna).
—
Die Ausstellung
is scheduled to take place at KIT in Düsseldorf over a period of four weeks. During this time, the space will be continuously transformed, works will be set up, dismantled and documented. On the face of it,
Die Ausstellung
is a group show. It compiles diverse artworks that use the medium of photography as their starting point and evince a similar interest in processes involved in the creation of realities and of reproduction. All the stages involved in the exhibition—from preproduction and on-site production, advertising in posters, promotional texts and via social media platforms with their broad reach and mass usage, all the way to the temporarily installed works themselves – constitute the factors that ultimately come together to create the show itself.
Continue
Reading
—
KIT
Mannesmannufer 1b
40213 Düsseldorf
www.kunst-im-tunnel.de
www.dieausstellung.net