▲ GROUP EXHIBITION @ SHARJAH ART MUSEUM ( U.A.E )
---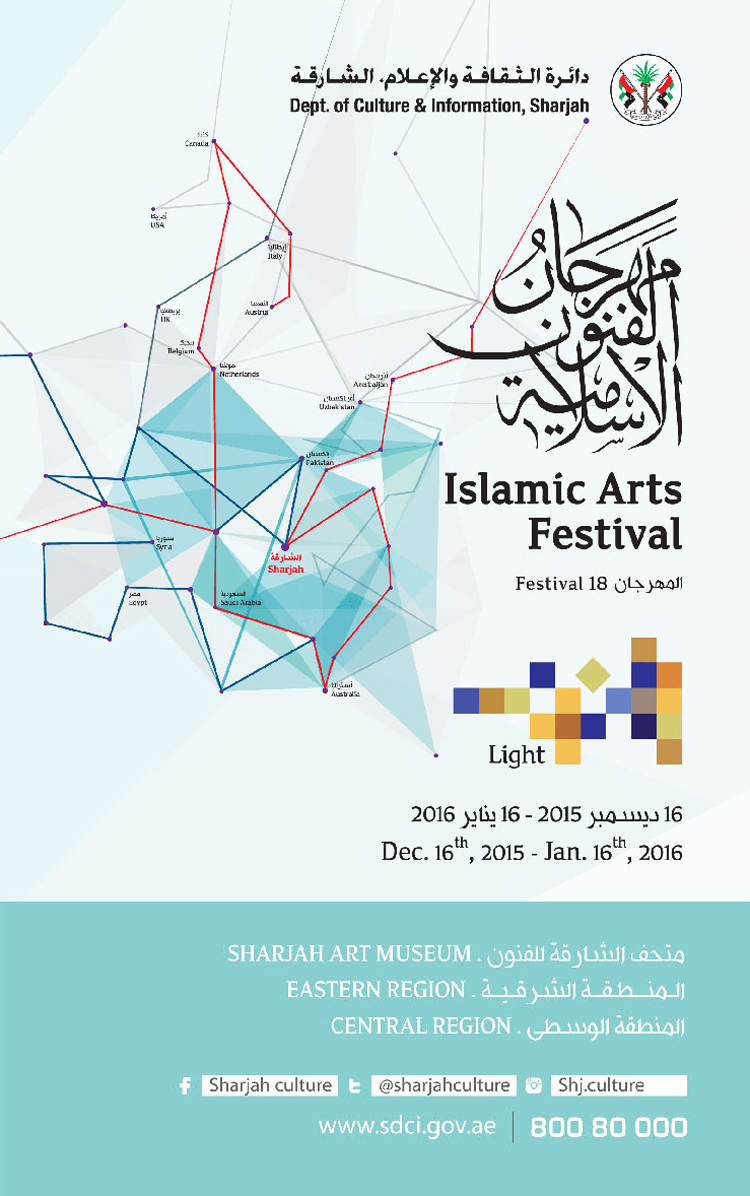 NOUR
Opening:     
December 16 · 2015 ⁄ 7 – 10.30am
Exhibition: 
December 16 – January 16 · 2016
Ibrahim Ahmed / Eric Standley / Elana Herzog / Bruce Munro / Ben Johnson / Pete Moorhouse / Dev Harlan / David Reumüler / James Nizam / Rashad Alakbarov / Zarah Hussein / Zaman Jassim / Sara Choudhrey / Samantha Holmes / Sameh Al Tawil / Suzan Drummen / Soner Ozenc / Simeon Nelson / Shahida Ahmed / Shamma Salim Bin Saif / Amr Fekry / Fabrizio Corneli / Faiq Ahmad / Farid Rasulov / Chris Wood / Christopher Swift / Lulwah Al Hamoud / Lita Cabellut / Mohamed Shoukry / Musaed Al Hulis / Naser Salem / Yelena Filipchuk / Serge Beaulieu
—
Under the patronage of His Highness Sheikh Dr. Sultan Bin Mohammed Al Qasimi, the Supreme Council Member and Ruler of Sharjah, the eighteenth edition of Sharjah Islamic Arts Festival launches it's activities on Wednesday 16th December, 2015 at Sharjah Art Museum and shall continue till January 16th, 2016. The festival features many different activities which embrace the various aspects of contemporary Islamic Arts. The festival hosts a group of remarkable and various artistic international experiences, where the halls of Sharjah Art Museum embraces 33 international art exhibitions. In addition to an art show held by two female artists at Al Majaz Water Front in Sharjah, there will be two exhibitions organized at the Calligraphy Square in Sharjah, one dealing with Kufic script and the other presenting various forms of traditional carpets and paper. Within the festival agenda, a parallel intellectual seminar will be held, attended by a group of speakers from several countries, who shall discuss urgent and current issues related to Islamic Art. The theme of the current festival's edition identifies the concept of light in its different dimensions as a subject of visual research. Through this theme, the artistic vision of light is reflected by the artist who constantly experiences the physical world of light and its expressive manifestations. Their creative artworks are open to the imagination, and within contemporary atmospheres led by renewable, multiple modes of expression in a world where its visual, scientific and philosophical incidents, accelerate through the time.
—
Sharjah Art Museum
Cornniche Street,
Sharjah, United Arab Emirates