▲ PUBLIC ART PROJECT @ BROOKFIELD PLACE ( TORONTO )
---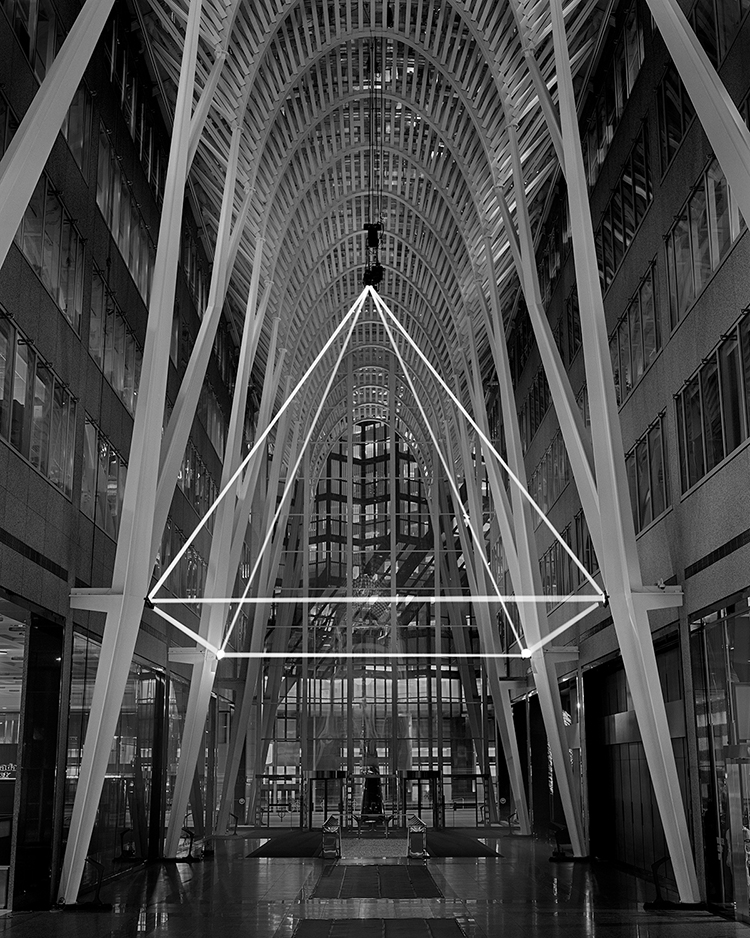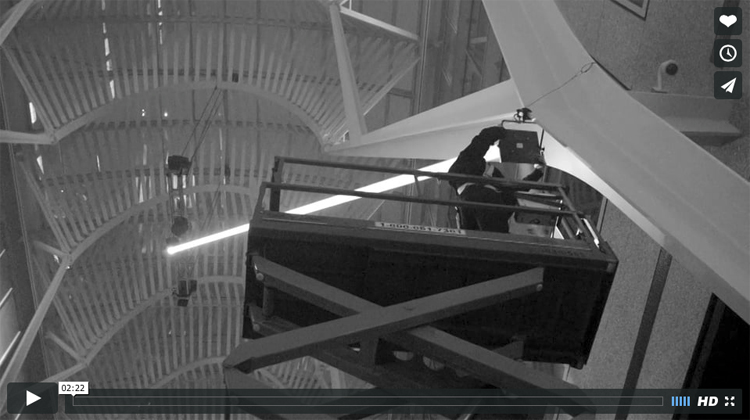 PYRAMID
Exhibition: 
April 29 – June 1 · 2013
—
Fleeting, liminal, and ultimately existing only as a photographic document, James Nizam's image of a luminescent pyramid activates the architecture of the galleria at Brookfield Place. Part photograph, part sculpture, this deceptively simple geometric form invites a deconstruction of how light and shape inform our perceptions of a space. The act of viewing is challenged as the eye moves between the image and the space in which the light sculpture once existed.
Working at night, Nizam's image was constructed through an isometric projection captured by a series of in-camera multiple exposures assembled into the shape of a pyramid. An individual beam of light was suspended high in the galleria's cathedral-like ceiling, refracted with mirrors, and made visible to the camera through the use of mist generated by haze machines. Commissioned for Brookfield Place, Nizam's Pyramid is hung precisely where the complete structure would have been in a layering that pulls at the complex temporality of the work. The Vancouver-based artist has adapted the approach he developed for his Thought Form series (2011), where he manipulated sunlight through a hole in his studio wall to create dynamic geometric forms. Here, Nizam uses artificial light to create a large-scale, site-specific public installation for the first time.
The significance of the pyramid form dates back to ancient theories of perception. Nizam has often engaged with historical techniques such as the camera obscura and pinhole camera; both are typically explained diagrammatically with a pyramid whose apex begins at the viewer's eye and extends outward to its base at the object that is being viewed. Referencing these images and ideas, Pyramid highlights spatial reasoning and photography as practices that are bound by their shared reliance on light, structuring the ways we visually process the world.
Commissioned by SCOTIABANK CONTACT PHOTO
Presented in partnership with Brookfield Place
Supported by Ernst and Young LLP

—

Allen Lambert Galleria, Brookfield Place
181 Bay St., Toronto
www.scotiabankcontactphoto.com